13 March 2018, Tuesday • 8:30am - 3:30pm
S221, 2/F, Phase One (Old Wing), Hong Kong Convention & Exhibition Centre
Event Highlights
Due to the increased frequency and sophistication level of cyber threats, surveillance is no longer sufficient to secure enterprise IT infrastructures and assets. Coupled with the shortage of security professionals, Managed Security Services Providers (MSSPs) are gaining attention worldwide, and the number of them are on the rise.

To provide best-in-class managed security services to enterprises, MSSPs are required to have a strong alliance with security vendors, the capability to provide an outside-in security posture rating, together with a well-developed security operation centre (SOC) for monitoring, identifying and responding to cyber security incidents in real time.

Into its 5th year, Singtel Cyber Security Forum 2018 will take a deep dive into how MSSPs can secure enterprise assets by offering up-to-date security architectures, advanced defence strategies and threat intelligence. The event will also focus on the current cyber security landscape, the evolution of cyber threats and, the proactive and preventive approaches of cyber defence.

Join more than 300 key security professionals and C-Level executives from the financial services, government, manufacturing, media, and retail industries at this full-day event. In addition to the morning conference, you are welcome to attend any of the three afternoon tracks, which will focus on: Outside-in Defence Approach; Next-Generation End-Point Security; and Network and Cloud-Based Security.


8:30am

Registration and Showcase Visit

---

9:00am

Opening Remarks

Teddy Ko
Country Director, Hong Kong, Global Enterprise Business, Singtel

---

9:10am

Opening Keynote: The State of Cyber Security in 2020

Miro Pihkanen
Partner, Cyber Risk Services, Risk Advisory, Deloitte China

---

9:40am

Keynote 1: Enabling the Convergence of IoT and Security in the Digital Economy

Read more


Dr. Ong Chen Hui
Director, OT Security, Cyber Security, Group Enterprise, Singtel

---

10:10am

Networking Tea Break and Showcase Visit

---

10:40am

Keynote 2: The State of Threat Intelligence: Why We Need to Stay Alert

Ralph Pisani
Executive Vice President Field Operations, Exabeam

---

11:10am

Keynote 3: Redefining the Managed Security Service Provider (MSSP) in the Digital World

Read more


David Mclinton
Head, Asia Pacific Operations, Cyber Security, Group Enterprise, Singtel

---

11:40am

Panel Discussion: Maximising the Synergistic Effect of Cyber Security Tools

Read more


Panel Chair :
Harry Pun, Director, Cyber Security, Group Enterprise, Singtel

Executive Panelists :
Dr. Lucas Hui, Senior Director, Security and Data Sciences, ASTRI
Patrick Liu, Head of Information Security Risk Management, DBS Bank (Hong Kong) Limited
Anna Gamvros, Partner & Co-head of Technology & Innovation, Asia, Norton Rose Fulbright, Hong Kong
Maurice Mo, Senior Director, Regional IT Security, Prudential Corporation Asia
David Mclinton, Head, Asia Pacific Operations, Cyber Security, Group Enterprise, Singtel

---

12:20pm

Networking Luncheon and Showcase Visit

---
---

Dr. Lucas Hui
Senior Director, Security and Data Sciences
ASTRI

Dr Lucas Hui has been appointed as Senior Director, Security and Data Sciences (SNDS), since February 2018. He is responsible for developing strategic plans for the technology division which focuses on cybersecurity, blockchain technology, and big data analytics; building and leading R&D teams, as well as engaging customers and collaborators from both the industry and the Government.

Dr Hui's research interests include information security, authentication services, network security, cryptography, and electronic commerce. Before joining ASTRI, he was the founder and Honorary Director of the Centre for Information Security and Cryptography, and concurrently an Associate Professor in the Department of Computer Science in the The University of Hong Kong. Dr Hui received his BSc and MPhil degrees in Computer Science from The University of Hong Kong, and his MSc and PhD degrees in computer science from the University of California, Davis. Besides actively publishing research papers, he has strong experience in consultation work in security systems, and in industrial collaboration projects.

---

Dr. Ken Baylor
Regional Vice-President
Attivo Networks

Dr. Ken Baylor is the Regional Vice-President for Attivo Networks. Ken is recognized as a leader in Data Protection, Information Security and Regulatory Compliance. Ken is a business-focused CISO, and served in that role for multiple organizations. Dr. Baylor is a Certified Information Systems Security Professional (CISSP) and a Certified Information Systems Manager (CISM). His was formally trained both as a scientist and lawyer.

---

Joseph Green
VP WW Solutions Engineering
Bitglass Inc.

Joe Green is Vice President, WW Systems Engineering for Bitglass. Based in the U.S., Mr. Green leads the pre-sales Systems Engineering, Channel Engineering and Inside Sales Engineering team WW. He focuses on technology evangelism, growing the business and creating a tight alignment with Sales, Partners and Customers.

Mr. Green joined Bitglass in 2017, after three years at Palo Alto Networks Asia Pacific and 11 years at Juniper Networks (U.S./APAC). Mr. Green was also Vice President of Systems Engineers at Juniper Networks for Asia Pacific. Prior to Juniper, Mr. Green worked for NetScreen Technologies, Check Point Software and other companies in the Network and Security space.

His career has been divided between North America, Asia Pacific as well as WW roles. He has been actively involved with Network Security for 20+ years. Throughout his career, Mr. Green has worked closely with companies WW to help adapt and evolve their security postures. He has also done extensive work with F1000 companies on BYOD, Mobile, Cloud, Collaboration and Social Media systems.

Mr. Green graduated from Arizona State University with Bachelors of Science and Fine Arts (Computer Animation and Digital Photography) and has a Master's Degree in Information Systems. He is a keen photographer, a father of two and is also a 10x Ironman Triathlete.

---

Serene Siow
Regional Director, Asia Pacific & Japan
BitSight Technologies

Serene Siow has close to 20 years experience in the Asia Pacific IT Industry. As current Regional Director of BitSight, she is responsible for driving sales, establishing channel relationships and growing Asia Pacific and Japan's customer base.

Prior to her current role, Serene held leadership positions including Managing Director, Singapore, at established global Value-added distributor – Exclusive Networks. During her tenure at Exclusive Networks, Serene was responsible for partnering with market leading and emerging vendors that provide cybersecurity, networking and infrastructure technologies through a channel of resellers in Singapore. She established, managed and evolved strategic partnerships with reputable System Integrators and resellers, to ensure exponential growth in sales.

---

Michael A. Davis
CTO
CounterTack

Michael A. Davis has been privileged to help shape and educate the global community on the evolution of IT security. His portfolio of clients includes international corporations such as AT&T, Sears, and Exelon as well as the U.S. Department of Defense. Davis' early embrace of entrepreneurship earned him a spot on BusinessWeek's "Top 25 under 25" list, recognizing his 2005 launch of IT security consulting firm Savid Technologies, which was recognized as one of the fastest growing security companies of its decade. He has a passion for educating others, as a contributing author for the "Hacking Exposed" books, as a speaker at dozens of conferences and symposiums, and through industry publications including InformationWeek and Dark Reading.

Most recently, Davis has served as CTO of CounterTack, provider of an endpoint security platform delivering real-time cyber threat detection and forensics. He chose to join the company because he recognized that the battle is moving to the endpoint, and that conventional IT security technologies can't protect enterprises. Rather, he saw a need to deliver to the community continuous attack monitoring backed by automated threat analysis.

Davis brings a solid background in IT threat assessment and protection to his latest posting, having been Senior Manager Global Threats for McAfee prior to launching Savid, which was acquired by External IT.

Aside from his work advancing cyber security, Davis has been a partner in a number of diverse entrepreneurial startups; held a leadership position at 3com; managed two Internet service providers; and recently served as President/CEO of the InClaro Group, a firm providing information security advisory and consulting services based on a unique risk assessment methodology.

Davis' ability to analyze, translate, and make connections among emerging IT and security trends combined with a business and entrepreneurial mindset make him a popular speaker — he strives to present complex concepts in a way that delivers value to a range of listeners. He regularly presents at industry conferences including Black Hat, Interop, SuperStrategies, and InfoSecWorld. His long-term vision, to create systems that will "push defenders ahead of attackers," is relevant to wide array of enterprise, government and vertical-industry stakeholders.

---

Ralph Wu
Sales Engineer
CyberArk, Hong Kong & Macau

Ralph Wu is Sales Engineer at CyberArk, Hong Kong & Macau. He is assisting different Enterprises to design Privileged Account Security Solution to against cyber threats and secure valuable data - the Heart of the Enterprise. Ralph has more than 15 years in Infrastructure and Cybersecurity domain. Prior joining CyberArk, he is Solutions Manager of HKT. He has lead the team to architect network infrastructure, and multi-layer security solution for different Enterprises to secure and keep their business up & running.

Ralph has assist different financial institutions to design Privileged Account Security Solution to help them comply different compliances, such as C-RAF, SWIFT, etc in 2017. In previous years, he also lead the team to design multi-layer Anti-DDoS solution and is widely adopted by different companies to keep their online business running well.

---

Amir Ofek
CEO
Cyberint

Mr. Ofek is the CEO of CyberInt. He is also a partner at BVL and a board director at Gilat Satellite Networks. In his prior roles, Mr. Ofek was the VP Client Business Executive for SingTel Group at Amdocs and a Director of Management Services at Amdocs. Mr. Ofek is a Captain (Ret.) in the elite IDF Intelligence unit (8200).

Mr. Ofek holds a BSc in Industrial Engineering and Management from the Technion and an MBA from INSEAD.

---

Patrick Liu
Head of Information Security Risk Management
DBS Bank (Hong Kong) Limited

Mr. Patrick Liu has more than 20 years of IT and Security experience including security operation, risk and control and IT audit within top tier financial institutions. As an experience security practitioner, Patrick has been responsible for performing and managing a wide range of security consulting, risk and threat assessment, security training, cyber crisis management planning program. Patrick is currently the Head of Information Security Risk Management of DBS Bank (Hong Kong) Ltd. He was awarded the Hong Kong Cyber Security Professionals Awards in 2017 in recognition of his commitment in the cyber security field.

Mr. Liu acquired several professional certifications including CISSP, CISSP-ISSAP, CISA, CGEIT, CRISC, CIA and ABCP.

---

Miro Pihkanen
Partner, Cyber Risk Services, Risk Advisory
Deloitte China

Miro is a Deloitte Partner in Hong Kong with over two decades of international experience in various areas of Cyber. He has worked across numerous industries and delivered Cyber strategies, architectures, policies, standards, and Cyber solutions and services. Before joining Deloitte he held positions in various industry sectors including FSI, CP&R, Public Sector and TMT. Most recently Miro has been serving Deloitte's biggest global clients including a major global bank where he led a Cyber Transformation program focused on building a repeatable and standardised framework to assist in design and delivery of their future Cyber initiatives.

---

Ralph Pisani
Executive Vice President Field Operations
Exabeam

With 20 years of experience in sales and channel and business development, Ralph is widely recognized as one of the top security sales leaders in Silicon Valley. He led the Imperva worldwide sales organization from an early stage through the company's successful IPO. Prior to Imperva, he served as vice president of Worldwide OEM Sales at SecureComputing (acquired by McAfee); and Regional vice president of Sales and vice president of Channel and Business Development for CipherTrust (acquired by SecureComputing). Ralph also has held global sales leadership roles with Sophos, Inc., HR Logic, Inc. and EMDS Consulting, Inc. Ralph has a BA in Business from Bentley University.

---

Anthony Lai
Director
Knownsec Hong Kong and Macau

Anthony Lai focus on offensive "Kungfu", malware analysis, target attack research as well as attribution. He is passionate over Capture the Flag game, reverse engineering and exploitation for years.

After inspired by Black Hat and DEFCON in 2007-8, he has found a non-profit making research group called VXRL (Valkyrie-X Security Research Group) since 2009 in Hong Kong, researchers have published various research in various security and hacker conference including AVTokyo, Codegate, Blackhat USA, DEFCON, DFRWS, HITCON, HTCIA USA and Asia Pacific. He organized a small conference called VXCON (vxcon.hk) and line up various his good friends to give cutting edge sharing and workshop.

Anthony acts as a director of Knownsec Hong Kong and Macau (knownsec.asia) and currently engages a part-time PhD program in Hong Kong University of Science and Technology, his research focus is on malware/threat attribution, machine learning and software analysis. He has been invited to be the technical team coach with Zetta KE and Alan HO for the CTF Team named "FireBird" sponsored and supported by Cyber Security Lab in HKUST (cybersecurity.cse.ust.hk).

Anthony is a mentor of SANS GREM and GXPN holder for official course.

---

Yingyu Xia
Product Manager
NCS

As a product manager, Yingyu is responsible for IoT product development in NCS Digital. She is actively involved in the process of product shaping and testing, and works very closely with the sales and business development team to market the finished product. She has also participated in several Smart Nation tenders in NCS.

Before embarking on her journey with NCS, she was under the Radio Specialist Team in Singtel Mobile, where she evaluates upcoming mobile and IoT radio technologies and makes recommendations on the appropriate technology to adopt.

---

Anna Gamvros
Partner & Co-head of Technology & Innovation, Asia
Norton Rose Fulbright, Hong Kong

Anna Gamvros is a technology and data protection partner based in Hong Kong. Anna is co-author to Internet Law in Hong Kong published by Sweet & Maxwell and is recognised in the Legal 500 and Chambers Asia as a leading individual for her expertise in the area of technology and data protection, in particular for her "extensive IT transactional work" and experience across a number of industries, notably with retail and luxury brands.

Anna's practice focuses primarily on technology and communications related issues. She advises clients on licensing and technology agreements, outsourcing, privacy and data protection, and telecommunications and Internet regulatory issues. She has been located in Hong Kong for the last 15 years and has assisted clients with Hong Kong and China based projects, as well as having a wealth of experience in multi-jurisdictional projects, particularly in implementing e-commerce and data management projects in Asia.

Anna is the Chair of the International Association of Privacy Professionals (IAPP) KnowledgeNet Chapter in Hong Kong and sits on the IAPP Asia Advisory Board. She is a Fellow of Information Privacy with the IAPP and holds the CIPT and CIPP/Asia certifications. She is admitted as a solicitor in Queensland, Australia and Hong Kong.

---

Charles Woo
Hong Kong and Macau Technical Consultant
Palo Alto Networks

Charles Woo has been the Hong Kong and Macau Technical Consultant in Palo Alto Networks, the leading cybersecurity vendor, since year 2012. Charles has contributed in plenty core cybersecurity deals in financial services, casino and high-education markets. He specialises in next-generation enterprise architecture design and integrated threat prevention. He is a Certified Network Security Engineer (PCNSE) and an active member of Certified Information Systems Security Professional (CISSP).

---

Maurice Mo
Senior Director, Regional IT Security
Prudential Corporation Asia



---

Dr. Ong Chen Hui
Director, OT Security, Cyber Security, Group Enterprise
Singtel

Dr Ong has distinguished herself as a cybersecurity specialist, with over a decade of experience in malware analysis, artificial intelligence, analytics, risk and vulnerability assessments, security monitoring and incident response. Her research work has been published extensively in leading publications worldwide.

She is currently Director of Operational Technology Security at Singtel, providing operational technology solutions, including industrial control systems, to address cybersecurity issues for business customers. Under her leadership, her team also looks at security solutions that safeguard the Internet-of-Things technologies and devices.

Her earlier experience focused on applied research and development and consultancy for many years as Member and subsequently Principal Member of Technical Staff at DSO Laboratories. In this role, she lead the research and development for Tiers 2 and 3 malware analysis and cyber-vulnerability studies on local critical infrastructure and collaborated closely with multi-national teams from Sandia National Laboratories and local universities.

Dr Ong first joined DSO Laboratories in 1999 and was awarded the DSO Graduate Scholarship to pursue her PhD in Computer Science under the Singapore-MIT Alliance, devoting her final thesis to automated decision-making over time and under uncertain conditions, machine learning and Bayesian modelling. During this time, she was a visiting scholar to the Massachusetts Institute of Technology and a recipient of the National University of Singapore President's Graduate Fellowship, presented to PhD students who showed outstanding promise or accomplishment in research.

Dr Ong has earned accreditations as a GIAC Certified Forensic Analyst (GCFA) and GIAC Reverse Engineering Malware (GREM) technologist. She also holds an MSc in Electrical Engineering from Stanford University and a BSc (Honours) in Electrical Engineering and Computer Science from the University of California at Berkeley in the United States.

---

David Mclinton
Head, Asia Pacific Operations, Cyber Security, Group Enterprise
Singtel

As a financial and telecommunications services technology risk, regulatory and security leader, David provides thought leadership and policy perspectives on a myriad of information security issues affecting global organisations. David has over 25 years of experience spanning Information risk management, security engineering and operations, customer security and telecommunications consulting in companies such as Standard Chartered, MCI WorldCom and Cable & Wireless.

David joined Singtel from JP Morgan Chase, where he was the Chief Information Security Officer for Asia Pacific and Latin America. He was principally responsible for managing large virtual teams, fostering close relationships with key clients, business partners and regulatory bodies across Asia Pacific, and evolving the firm's cyber security agenda and risk and control environment.

David has a proven and successful track record in developing, managing and overseeing firm-wide security programmes, budgets and strategies, establishing a security operations centre from ground up to provide robust security monitoring and management services, and fostering and strengthening relationships with clients, business partners and regulatory bodies.

---

Harry Pun
Director, Cyber Security, Group Enterprise
Singtel

Harry Pun is Director, Cyber Security of Singtel Hong Kong. He is responsible for managing overall Cyber Security business. He leads a team of seasoned security experts to provide security solutions, services and consulting to the clients.

Harry brings with him more than 20 years of experience in IT and Information Security including solution selling and consultancy in the Greater China region. Prior to his current role, Harry was Head of Business Units & Alliances at Dimension Data managing Solution Businesses. He also held several key positions with a variety of IT vendors including NTT Security, Verizon Terremark and Symantec.

Harry holds Master degree and Bachelor Degree in Engineering from the Chinese University of Hong Kong. He is also a Certified Information System Security Professional (CISSP).

---

Teddy Ko
Country Director, Hong Kong, Global Enterprise Business
Singtel

As Country Director at Singtel Hong Kong since November 2015, Teddy Ko is responsible for the office's sales and growth strategies, and focused on ensuring operational efficiency and profitability.

Prior to joining Singtel, Teddy was Assistant Vice President, Product Marketing at HKT, where he led a team to develop competitive product positioning and business growth strategies for the cloud, FMNS and virtualisation portfolio. He was also previously Head of Solutions at Dimension Data China/Hong Kong. There, he was responsible for growing market share for core solutions such as Network Integration, Security Solutions, Converged Communications and Performance Optimisation.

Teddy is a member of both the Chartered Institute of Marketing (MCIM) and Institute of Engineering and Technology (MIET), and acts as convenor to the Cloud Computing Special Interest Group and Financial Technology (FINTech) Special Interest Group of the Hong Kong Computer Society. He graduated from Hawaii Pacific University with a double BA major in Marketing and Computer Information Systems, and holds an MSc degree in International Business and Management from De Montfort University in the UK.

---

Michael Gianarakis
Director of SpiderLabs Asia Pacific
Trustwave

Michael Gianarakis is the Director of Trustwave's SpiderLabs® Asia Pacific practice where he oversees the delivery of technical security services in the region. Michael has over 10 years' experience in the security industry, previously holding positions at Securus Global, Ernst & Young, and Deloitte. Michael has presented at various industry events and meetups in the region including, Black Hat Asia, Rootcon, CrikeyCon, YOW! and WAHCkon. Michael is also actively involved in the local security community in Australia where he is one of organisers of the monthly SecTalks meetup.



---

Scott Robertson
Vice President, Asia Pacific and Japan
Zscaler

Scott Robertson is Vice President of Asia Pacific and Japan for Zscaler. Scott has over 20 years experience in IT and IT Security, having previously held senior leadership positions at WatchGuard, CRYPTOcard and Microsoft. Scott has a combined MBA from the University of Washington and Macquarie Graduate School of Management, with a concentration in entrepreneurial studies.



---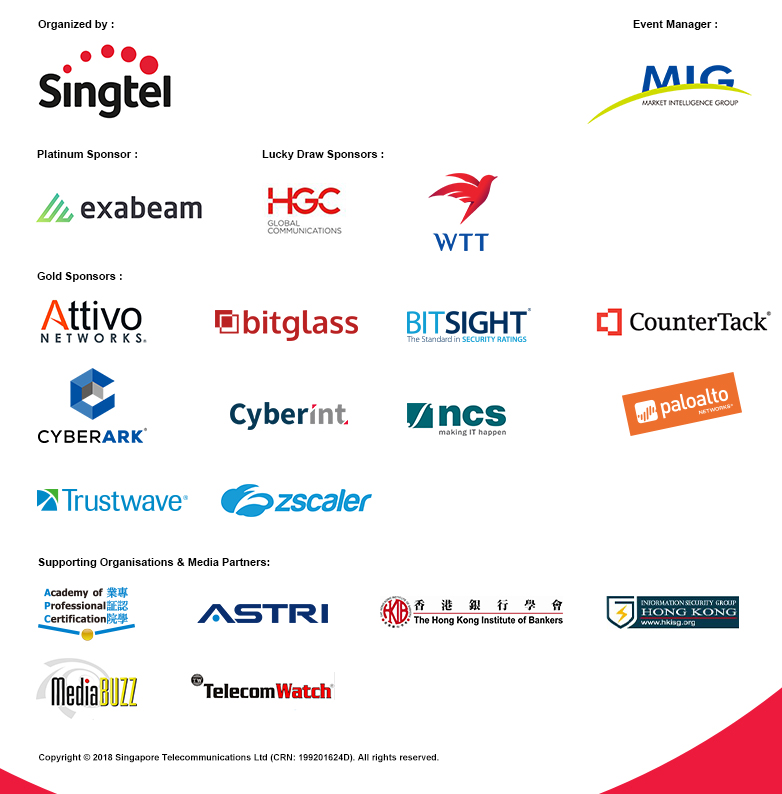 ---
Date : 13 March 2018, Tuesday

Time : 8:30am - 3:30pm

Venue : S221, 2/F, Phase One (Old Wing), Hong Kong Convention & Exhibition Centre