14 June 2019, Friday • 8:30am - 4:00pm
Level 3, Grand Ballroom, JW Marriott Hotel Hong Kong
Event Highlights
Cybersecurity is more than just about technology, automation and analytics. The expertise and judgement of security professionals will ultimately determine the effectiveness of your security programme. However, there has been a global shortage of security talents while cyber threats continue to grow in volume and sophistication.

Increasingly, organisations are turning to Managed Security Services Providers (MSSPs) to complement and architect their security strategies. A good MSSP, with a dedicated pool of security experts and range of technology partners, can offer threat hunting best practices, latest threat intelligence, and help manage an organisation's many security tools. This effectively offloads pressures faced by organisations to stay abreast of security trends and risks, and regulation requirements.

Trustwave – a Singtel company, is recognised as a global MSSP leader by analysts from IDC and Gartner. It brings deep MSS capabilities to enterprises by offering best-in-class technology partners, a global threat intelligence SOC network, and enhanced value with a renowned team of elite threat hunters – Trustwave SpiderLabs. From surveillance to eliminating threats, Trustwave has the ability and capacity to protect critical data assets.

Into its 6th year, Singtel Cybersecurity Forum 2019 will continue to focus on the current landscape of cybersecurity, the evolution of cyber threats and the proactive and preventive approaches of cyber defence. Join more than 300 key security professionals and C-level executives from the financial services, government, manufacturing, media, and retail industries at this full-day event. Besides the morning conference, you are welcome to attend any of the two afternoon tracks, which will focus on: Cloud, Network & End-point Security; and Advanced Technology & Consulting.


8:30am

Registration and Showcase Visit

---

9:00am

Opening Remarks

Teddy Ko
Country Director, Hong Kong, Singtel

---

9:15am

Opening Keynote: Cybersecurity Trends and Predictions: 2025

Read more


Adj. Professor Jason Lau
Chief Information Security Officer, Crypto.com and HK Regional Leader, International Association of Privacy Professionals (IAPP)

---

9:45am

Keynote 1: MSSPs: A Mutual Approach to Value

Read more


Christopher Schueler
Senior Vice President, Managed Security Services, Trustwave

---

10:15am

Keynote 2: Making Sense of Chaos - The Evolution of Operational Security

Kevin O'Leary
Field Chief Security Officer, APAC, Palo Alto Networks

---

10:45am

Networking Tea Break and Showcase Visit

---

11:15am

Keynote 3: Zero-Trust: Modern Defense for Hybrid Environments

Read more


Stanley Hsu
Regional Director, Asia Pacific, Illumio

---

11:45am

Panel Discussion: Joining Forces in Securing Enterprise Assets with Advanced Cyber Capabilities
Panel Chair :
Bill Sims, Founder & CEO, Spy for a Day

Executive Panelists :
Ben Wootliff, Partner, Control Risks Pacific Limited
Shane Read, CISO, Noble Group
Dirk Engeler, CISO, The Hong Kong Jockey Club
Christopher Schueler, Senior Vice President, Managed Security Services, Trustwave
Parag Deodhar, Director - Information Security, Asia Pacific, VF Corporation

---

12:30pm

Networking Luncheon and Showcase Visit

---
---

Carla Morss
Managing Director of Sales, APAC
Bitsight Technologies

Carla has garnered a wealth of experience opening up new global markets and in establishing key strategic global partnerships which include Singtel, IHS-Markit and Ernst & Young. Her expertise in enterprise sales for global 1000 organizations, and channel management makes her a trusted advisor to many companies around the world. Prior to BitSight,Carla spent 10 years with Q1 Labs ( which was acquired by IBM) building the US channel program and subsequently focusing on US Federal Government.

---

Matthew Bennett
Vice President & Managing Director, Asia Pacific & Japan
Carbon Black

As the Vice President and Managing Director, Matt Bennett leads Carbon Black's business across Asia Pacific and Japan (APJ) and is based in Hong Kong. Over the past 20 years, Matt has held numerous roles in the IT industry, working closely with customers around the globe to overcome security challenges. With a depth of international experience, Matt is known to take a hands-on approach to building business and managing channels across Asia Pacific and Japan. Prior to joining Carbon Black, Matt served as a Vice President of APJ at MobileIron and held leadership roles at Zscaler, Inc. and Blue Coat Systems.

Carbon Black is a leading provider of next-generation endpoint security. Carbon Black serves more than 3,700 customers globally, including 30 of the Fortune 100. As a cybersecurity innovator, Carbon Black has pioneered multiple endpoint security categories, including application control, endpoint detection and response (EDR), and next-generation antivirus (NGAV). Leveraging its newly introduced big data and analytics cloud platform - the Cb Predictive Security Cloud - Carbon Black solutions enable customers to defend against the most advanced cyber threats, including malware, ransomware, and non-malware attacks. Deployed via the cloud, on premise, or as a managed service, customers use Carbon Black solutions to lock down critical systems, hunt threats, and replace legacy antivirus. For more information, please visit www.carbonblack.com.

---

Ben Wootliff
Partner and Head of Cyber Security, Asia Pacific
Control Risks Pacific Limited

Ben Wootliff heads Control Risks' cyber security practice in the Asia Pacific region. In addition to managing cyber security projects for clients, and developing methodologies and product offerings, Ben leads the cyber security strategy for Control Risks in Asia. Ben also is the general manager of Control Risks Hong Kong where he has oversight over the range of investigative, crisis and security management and political risk projects.

Prior to moving to Asia, Ben managed Control Risks' corporate investigations financial services practice in London, which was responsible for the company's relations with investment banks, private equity firms and asset managers. Ben's opinions on cyber security, as well investment risks, corruption and compliance are regularly cited in the financial media.

Before joining Control Risks, Ben was a journalist specialising in business and finance. He has worked for numerous publications including Bloomberg News, Institutional Investor, Financial News, the Daily Telegraph and the Sunday Business. He has also been published in numerous other publications including the Sunday Times and Observer. Ben graduated from the University of Birmingham with a bachelor's degree in modern history and political science.

---

Patrick Lam
Regional Director – GCR & ASEAN
Druva

Patrick is the Regional Director, Greater China & Southeast Asia region at Druva. Patrick has over 20 years of experience in the technology field specifically big data infrastructure, business continuity management, high performance computing and storage architectures. Prior to Druva, Patrick took on country management lead roles for Silicon Valley-based high-tech firms, one of them being acquired by Dell, as well as various Fortune 500 High Tech companies. Patrick graduated from the California Polytechnic State University.

---

Ben Richardson
Partner
Finsbury

Ben is responsible for running Finsbury's operations in Asia and has extensive experience working across the region. His clients include BlackRock, Aviva, ABB, CPPIB, Allianz Global Investors, Global Switch and UBP. Before moving to Hong Kong, Ben worked out of Kuala Lumpur, Singapore and Mumbai. He has advised on corporate profile raising and stakeholder engagement plans in China, cross-border acquisitions in Asia, Europe and the US, bond defaults, litigation and arbitration preparation, the redevelopment of Malaysia's national stadium, management change, investor outreach, and share-price recovery plans.

A former BBC bureau chief in Singapore, Ben ran the BBC's flagship business TV programme in Asia and has extensive experience as a digital journalist having worked for the BBC's website and at Bloomberg News. Ben has also created and delivered bespoke media and crisis training programmes for CEOs and top management, as well as press teams, in-house comms divisions and international news organisations.

Ben graduated from Durham University (U.K.).

---

William Wong
Assessment Manager
Hong Kong Quality Assurance Agency

Mr. Wong is currently the Assessment Manager for Hong Kong Quality Assurance Agency (HKQAA) responsible for delivery and technical support for various auditing, assessment and certification services. Mr. Wong has more than 22 years experience in developing, implementing and auditing management systems. During recent years, he focused in developing and maintaining new conformity assessment services including ISO 27001, ISO 20000, TL9000 and customized assessment projects in ICT sectors to suit the global trends and market needs. Serviced clients include government departments, public utilities and public bodies as well as local and multi-national companies. Mr. Wong is a holder of Master of Science Degree with Distinction in Information Technology (for Manufacture) and achieved the Postgraduate Certificate of Business Administration. He is also a holder of a number of professional qualifications in IT, auditing and related areas including CISSP,CISA, CCAA QMS and ISMS Auditor, APMG ISO 20000 ITSMS Lead Auditor, IRCA ISO 27001 ISMS Lead Auditor, QuEST Forum TL 9000 TIEA and Master Trainer.

---

Stanley Hsu
Regional Director, Asia Pacific
Illumio

Stan joined security vendor Illumio in 2018 adding to an already distinguished 20+ year technology career to take the role of Regional Director for Asia Pacific. Prior to joining Illumio, Stan was the founding member of Darktrace's leadership team in Asia Pacific and has been responsible for educating, defining and building markets for security technologies including Darktrace and McAfee across Asia. Stan is passionate about security innovation and moving the cyber-security forward in the age of digital transformation with the goal of helping enterprise organisations better secure their environments through advanced and emerging technologies. He has a degree in Computer Engineering from the University of South Australia.

---

Adj. Professor Jason Lau
Chief Information Security Officer, Crypto.com and HK Regional Leader
International Association of Privacy Professionals (IAPP)

Jason is a multiple award winning cybersecurity professional, including the, "Hong Kong Cybersecurity Professional Award" and "Financial Technologist of the Year (Data Privacy)". Jason is currently CISO at Crypto.com, a Blockchain FinTech company with market cap of over USD 400M as of early 2019 and helped Crypto.com be the first cryptocurrency company in the world to achieve company-wide ISO27001:2013 certification. Prior to Crypto.com, Jason was a regional Cybersecurity Advisor at Microsoft and has over 18 years in consulting experience for Fortune 500 companies in the fields of Management Consulting, Cybersecurity, Compliance, IT Governance and Privacy. Jason has completed Executive Programs at both Stanford and Harvard, and holds double degrees in Engineering (Hon) and Commerce. Jason also holds certifications such as CISSP, CIPP/E, CIPM, CGEIT, CRISC, CISA, CISM, CEH, CDNA, CSM, ITIL as well as being a Fellow of Information Privacy (FIP). Jason is active in industry, with a seat on Hong Kong Cyberport's Entrepreneurship Committee Advisory Group, and currently the Regional Leader and Co-Chair of the International Association of Privacy Professionals (IAPP). Jason is also an Adjunct Professor (cybersecurity and privacy) at HKBU for their Masters of Finance (FinTech and Financial Analytics) programme.

---

Nicholas Tay
Regional Director, ASEAN/GCR/KR
Netskope

Nicholas Tay has over 15 years of experience in the areas of security and data networking and has at least 5 years experience in data protection. Prior to Netskope, Nicholas was a Regional Director at Digital Guardian leading the ASEAN and Greater China. During his initial career, he was a security engineer working for Watchguard and other security companies in delivering multiple products in the areas of security to the market. With his engineering background, Nicholas is ablecomprehend and ability to provide customer assurance with an immediate response to their technical questions.

---

Shane Read
Chief Information Security Officer
Noble Group

Shane Read is the CISO for Noble Resources Limited based in Hong Kong. Prior to this he has been with the Australian Federal Government for the past 15 years, predominantly within the Department of Defense undertaking the role of their Information Systems Security Officer. His passion in the industry is broad, and while now he favors building the Boardroom's understand of InfoSec delivering the overall program, his real excitement is playing with new and emerging technologies. He feels the key to InfoSec is in understanding your data, the protections you can employ on that data (CIA&NR) and being able to continue build your cyber maturity. "If you don't understand your own networks and external connections you are not placing yourself well to understand an attack"

Shane hold a Masters of Policing, Intelligence and Counter-Terrorism from Macquarie University.

---

Kevin O'Leary
Field Chief Security Officer, APAC
Palo Alto Networks

Kevin O'Leary is a senior IT Security professional with over 20 years of experience working for public institutions, private companies and large multinationals across Asia Pacific and Europe in a variety of management, engineering and advisory roles. He has worked both as a Chief Security Officer and Principal Security Architect across a range of business verticals (ICT, Pharma, Finance, Aviation and Manufacturing in particular).

Before joining Palo Alto Networks as the Field Chief Security Officer, APAC Kevin served as the VP and Chief Information Security Officer, GE Regions and Greater China. In this role Kevin advised the global and local leadership on Security and Risk aligned to business strategy within China and other growth regions globally. During 2017 as the new Cyber Security laws came into effect in the People's Republic of China Kevin was asked to update the GE board as to the implications to GE operations and is much sought after for speaking engagements across the Asia Pacific region on this and other topics.

Prior to joining GE Kevin served as Asia Pacific & Japan CISO & Information Risk Management (IRM) Leader for HP Enterprise Security Services from 2014-2015. In this role He was responsible for the stability and growth of HP Security Services in ASEAN, North Asia and ANZ leading a team of 100 Security delivery personnel working across over 35 customer accounts across the region.

Prior to working in the APAC region Kevin was based in Europe and worked on a variety of projects in the private sector as well as several years with the European Commission in Brussels.

Kevin holds a MA in medieval history from the National University of Ireland and maintains a keen interest in the subject wherever he travels. As a former player and current qualified referee Kevin has been involved in the development of rugby in China and often travels to take part in tournaments and matches there and across the APAC region.

---

Sam Bryce-Johnson
System Engineer Specialist
Palo Alto Networks

Sam has been in Cyber Security for 13 years, starting out working in Network Security as a Firewall Administrator in Oil & Gas then Financial Services. Have spent the last 8 years working in the vendor space, originally at Kaspersky Lab then McAfee, and 18 months ago he joined Palo Alto Networks as a Specialist Systems Engineer focusing on our XDR Solution.

---

Teddy Ko
Country Director, Hong Kong
Singtel

As Country Director at Singtel Hong Kong since November 2015, Teddy Ko is responsible for the office's sales and growth strategies and focused on ensuring operational efficiency and profitability.

Prior to joining Singtel, Teddy was Assistant Vice President, Product Marketing at HKT, where he led a team to develop competitive product positioning and business growth strategies for the cloud, FMNS and virtualisation portfolio. He was also previously Head of Solutions at Dimension Data China/Hong Kong. There, he was responsible for growing market share for core solutions such as Network Integration, Security Solutions, Converged Communications and Performance Optimisation.

Teddy is a member of both the Chartered Institute of Marketing (MCIM) and Institute of Engineering and Technology (MIET), and acts as convenor to the Cloud Computing Special Interest Group and Financial Technology (FINTech) Special Interest Group of the Hong Kong Computer Society. He graduated from Hawaii Pacific University with a double BA major in Marketing and Computer Information Systems, and holds an MSc degree in International Business and Management from De Montfort University in the UK.

---

Bill Sims
Founder & CEO
Spy for a Day

Bill has over 30 years of experience in the investigations, security, and intelligence fields. Bill joined the British Government in 1988. During a 17-year career with the FCO, Bill served as a Diplomat in Jordan, Zimbabwe, UAE, Malaysia, and South Ko-rea.

Bill came to Hong Kong in 2005. He joined FTI Consulting in 2007, heading the Global Risk and Investigations team, before joining leading cyber-security company Stroz Friedberg in 2015, running it's Asia operations.

In 2018, Bill founded his own training company, Spy for a Day, specialising in team-building through role-playing, personal and travel security, cyber-security, and an ar-ea Bill terms business excellence – a diverse set of skills including networking and investigative interviewing.

Bill has an MSc in Organisational Behavior and a BA in Politics, Philosophy and His-tory, both from the University of London. Bill is a Certified Fraud Examiner and also completed a GCHQ certified cyber-security course with The Open University in the UK.

---

Dirk Engeler
CISO
The Hong Kong Jockey Club

Dirk joined the Hong Kong Jockey Club in early 2019 as Chief Information Security Officer and is responsible the protection of the Club's information, information systems, network infrastructure and operations, covering resiliency, governance, and conformance to privacy and regulatory requirements.

Dirk has over 23 years of Information Security experience and has managed global teams across banking and finance including more recently the Commonwealth Bank of Australia, ANZ Bank, and National Australia Bank. He is a transformation leader of cyber security delivery methodologies and information warefare, with a strong focus on digital banking and development of cloud strategy for retail financial services, Emerging Markets, Institutional Banking, and Global Markets.

Dirk studied a Bachelor in Computer Science & Technology at La Trobe University in Australia, and was appointed Chair of Cyber Committee for Fintech Association Hong Kong in 2018.

---

Alan Phua
Director, Cyber Security, APJ Product Management
Trustwave

Alan is our Head of Product for our Cyber Security business in Asia Pacific Japan. He heads our team of Product Managers in APJ, that builds and support Global and Regional product initiatives, bringing "Right-for-Market" solutions to our customers.

Since joining Trustwave, Alan has been engaging our customers and partners regularly, to understand their business challenges, while shaping our future portfolio of Cyber Security solution towards solving real-life business needs.

His wide spectrum of experiences were built across the years, from Security consulting with ISS (Acquired by IBM), IT compliance auditing with KPMG, business development with Datacraft (Acquired by NTT), MSS APJ Business lead for AT&T and with spending the last decade with Symantec.

While he was with Symantec, Alan held multiple roles, supporting a wide range of Security solutions within the company. Transforming the business of Symantec Compliance, Endpoint Management, Cloud Security, Information Protection, Advanced Threat and Identity Protection portfolios, all from emerging product status, to one of their most successful businesses within Asia Pacific Japan.

Alan holds a Bachelor degree in Applied Science, majoring in computer and information technology from Royal Melbourne Institute of Technology (RMIT).

---

Christopher Schueler
Senior Vice President, Managed Security Services
Trustwave

Chris Schueler is Senior Vice President of Managed Security Services at Trustwave where he is responsible for Managed Security Services, the global network of Trustwave Advanced Security Operations Centers and Trustwave SpiderLabs Incident Response. Chris joined Trustwave from IBM where he held multiple roles including Vice President of Global Cloud Development and Operations (DevOps), Director of Applications on Demand and Director of Global Security Operations Centers. While at IBM, Chris built successful businesses in the cloud industry with a specialization in managed services and was instrumental in many technology and service acquisitions. Prior to IBM, he was at Internet Security Systems, the Department of Defense and in the U.S. Army Special Operations Command. Chris received his master's degree in business administration from Auburn University and has a bachelor's degree in computer science from Northern Illinois University.

---

Kevin Tran
Director, Asia Pacific & Japan
Trustwave SpiderLabs

Kevin is the Director of Trustwave SpiderLabs Asia Pacific & Japan, with a focus on providing penetration testing and Red Team attack simulation services to clients across this region. Prior to assuming this role, Kevin was a senior penetration tester at a Big 4 Consultancy and worked around the world for over 5 years. He has led and delivered many complex penetration testing and Red Team assessments globally, whilst based in the United Kingdom and Canada before returning to Australia recently. Kevin has hands on experience testing various applications and networks across various industries, and guided his clients through tactical and strategic remediation planning to improve their resiliency against Cyber Attacks, focusing as much on aspects of peoples' cyber awareness and process, as technical controls. In Hong Kong, Kevin has hands-on experience delivering attack simulation exercises under the Hong Kong Monetary Authority's iCAST Framework. Kevin is an Offensive Security Certified Professional (OSCP), CREST Certified Tester – Infrastructure (CCT-INF) and also maintains a CISSP.

---

Wallis Choi
Security Solutions Architect
Trustwave

Wallis is the Security Solutions Architect of Trustwave which provides the support on the pre-sales activity of Hong Kong and other North Asia region for Trustwave security products, solutions and services. Wallis is a veteran IT and cyber-security professional and is experienced in articulating complicated solution and conducting proof of concept to the customer. He has been with Trustwave for 2 years. Before joining Trustwave, he held senior regional pre-sales and architect position for other multi-national IT vendors, including Citrix and Dyn. Wallis is a CISSP and has an MBA and EE degrees.

---

Wilson Tan
Director, Cyber Security Institute, APJ
Trustwave

Wilson Tan has been in the telecoms industry for more than 20 years and is currently the Director for Trustwave's Cyber Security Institute (CSI). Asia's leading educational facility to train cyber security professionals, senior management and board members in the fight against cyber warfare.

In his current capacity as center Director, he leads a team of cyber security professionals and works with best of breed partners to offer experiential and engaging educational sessions targeted at all levels of the organisation. Utilising a state-of-the art cyber range and working with seasoned cyber security professionals, modular sessions are being co-created and delivered at CSI.

He is a regular speaker and moderator in many industry conferences and sits in various industry associations/project boards to play an active role in promoting the use of Info Communications Technology and Cyber Security. He recently took a 1 year career sabbatical to be based in Timor-Leste and was employed by the International Financial Corporation (World Bank Group) to work on capability development with the local government.

He holds a Masters in Economics at the University of Wollongong, Australia and is also a Certified Ethical Hacker (CEH).

---

Parag Deodha
Director - Information Security, Asia Pacific
VF Corporation

Parag is the Director - Information Security for Asia-Pac at VF Corporation. In his earlier role he was the Asia CISO for AXA Group.

Parag is a Chartered Accountant, Certified Information Systems Auditor from ISACA, US and Certified Fraud Examiner from ACFE, US.

Parag has over 20 years' experience in Enterprise Risk Management, specializing in Operational Risk, Information Security, Business Continuity and Fraud Risk Management. He has worked in Cyber Security, Audit, Consulting and Program Management functions with multinational companies like AXA Group, KPMG and Tech Mahindra.
---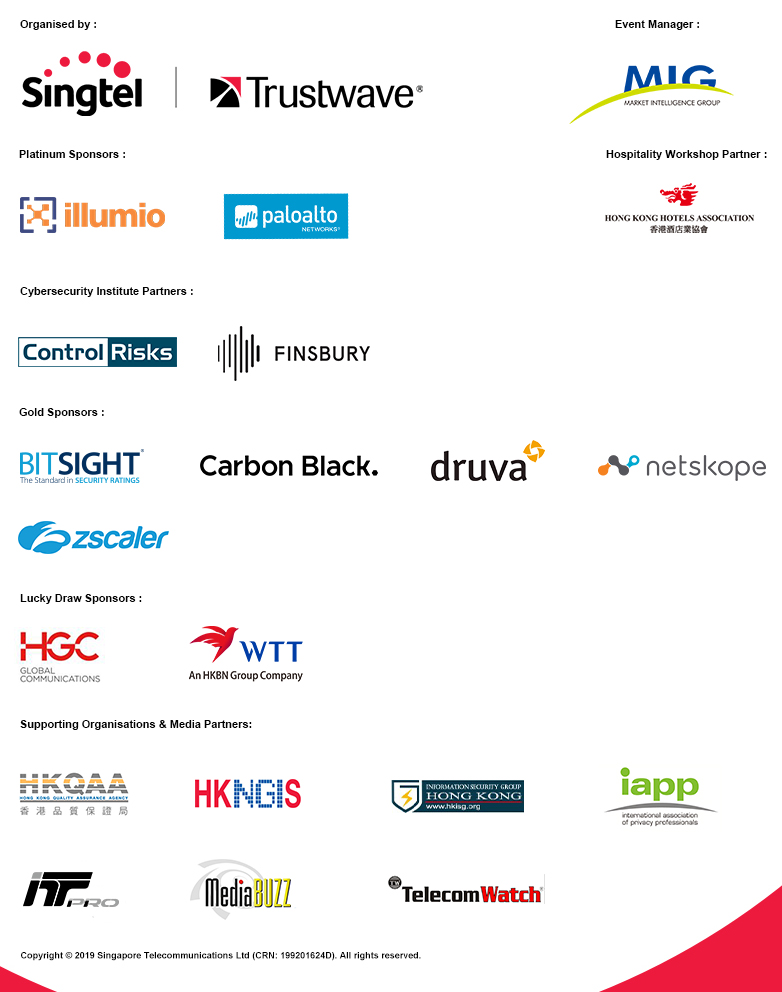 ---
Date : 14 June 2019, Friday

Time : 8:30am - 4:00pm

Venue: Level 3, Grand Ballroom, JW Marriott Hotel Hong Kong